Product information
The development of the material used to cover sports courts is a continuous process, shaped by changing needs and keeping the pace with the ever higher requirements. From time to time, new technologies emerge as technological progress permits and as consumer demand requires. The aspects, based on which a cover material is deemed suitable, meeting market requirements in terms of durability and costs, are also constantly changing. Over more than 20 years of operation, we had to reintroduce certain materials into our product range on several occasions due to changing market preferences and we also discontinued certain others because they no longer met the increasing customer requirements of price and quality. If you wish to find out more information about the covers currently in our product range, visit www.pannonmetal.hu . Our colleagues constantly strive to supply each customer exactly with the sports field cover they need, meeting customer requirements as far as contemporary technology permits. Basically, the following information is a useful guideline to get to know the products we use:
Products for outdoor use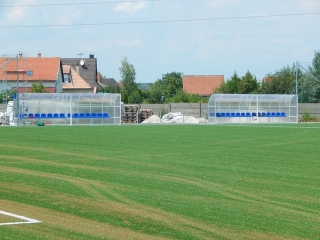 For a sufficient product lifespan, only UV resistant covers may be installed outdoors, since these are resistant to solar radiation for a long time besides being weatherproof. This means that they resist humidity, extreme temperatures and direct solar radiation well. Depending on the sport, artificial turfs feature varying fibre lengths and qualities and a number of infill options (quartz sand, rubber granules). A natural customer expectation is that the sport in question be played under dust-free conditions; therefore our products also satisfy this requirement.
Products for indoor use
Needless to say, UV resistance is less of a significant expectation for indoor products as for those meant for outdoor use. However, noise reduction and noise absorption properties are more important for this range, as the sport in question is expected to be played with minimal noise and thumping. Long product lifetime, easy and efficient cleaning and low maintenance costs are equally important considerations for indoor covers. Another important requirement concerning materials specifically produced for covering sports fields is that their flexibility must be uniform over the entire covered surface and players must meet equal friction and slipping conditions at all points of the field.

Renovation of existing fields/courts
There are covers that may be applied to those currently in use and worn away, creating a renovated surface. If you are seeking a solution of this sort and wish to find out more about the options available, contact our colleagues via the Ask for an offer page or call our office.
When inquiring, please describe the intended functions of the area to be covered! What sports will be played most frequently on the new field/court?
Your inquiry has arrived to the office of Pannon Metal Kft. Our colleague will contact you within a few working days on one of the contact details provided, via e-mail or telephone.
If you need an offer or information within a shorter deadline, please contact our office by telephone.